360 communication plans are most often an effort to homogenize brand content on various touchpoint. That's important for sure but not enough. The key to taking the best out of an activation stagegy is true integration through a zero-based budget (ZBB) approach. That's the essence of our consulting mission at ROI MARKETING, over and beyond marketing effectiveness audits.
What an Integrated Communications Plan (ICP) is not…
An ICP is not the translation of the brand idea in several disciplines: this keeps silos into their internal rationale and greatly limits horizontal efforts to establish effective, operational links between the various communication disciplines.
So most activation plans look like the below diagram: a "collection" of initiatives deployed around the brand idea.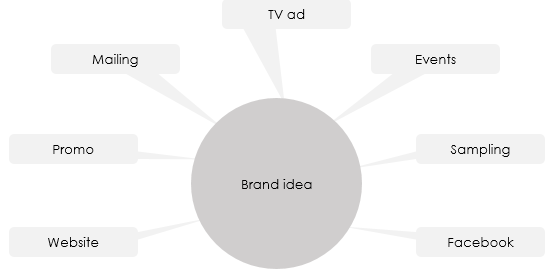 What an Integrated Communications Plan is:
An Integrated Communications Plan is a zero-based approach (ZBB) touchpoint architecture that complies with 4 principles:
A clear hierarchy amongst selected touchpoints
Explicit synergies between selected touchpoints
A 360 perspective
Less is more
We also take into consideration the bottlenecks in the sales funnel (awareness, recruitment, loyalty) and key learnings from MCA® audits such as:
Invested touch points below the visibility threshold (fix or pull out)
Touch points with major inefficiencies (review execution)
These principles are developed in ad hoc work sessions with all stakeholders (top management, communication, marketing, consumer intelligence, finance, sales) to reach the right decisions on resource allocation.
Example of an Integrated Communication Plan in an alcoholic category